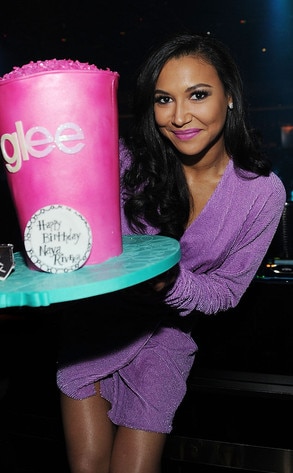 Courtesy: Denise Truscello, WireImage
Glee
star
Naya Rivera
turned 25 on Jan. 12, but she held off celebrating her birthday until Saturday night in Las Vegas. Rivera's birthday party took place at 1 OAK nightclub at the Mirage Resort Hotel and Casino and the Fox hit's fan favorite rocked a stunning sparkly purple frock to celebrate her special day.
Quinn and Santana are besties!
Glee
pal
Diana Agron
joined Rivera's family, including her mother and brother, at her costar's birthday party.
Of course, no birthday is complete without a birthday cake and 1 OAK presented Rivera with a cake that'll make all Gleeks jealous: A hot pink cake shaped like a Slushie!
Before her party, Rivera tweeted, "Getting ready to celebrate at @1OakLV! So excited!"
Happy belated birthday, Naya! Hope you had fun!