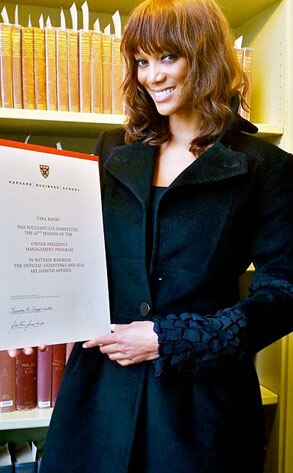 Courtesy: Carolyn London
Who doesn't love a beauty with brains?
Tyra Banks
has added another accomplishment to her list of many, but this just might be one of her greatest.
The model-TV personality-producer-author-entrepreneur is now an official graduate from Harvard Business School!
The
America's Next Top Model
host graduated with a certificate from the Owner/President Management Program.
And she couldn't hold back her excitement, as proven by her tweets and photos.
There was a pic of her showing class participation, another of the model striking a pose on campus "w/ my diploma" and, of course, the famous shot of her long-legged self walking away with her degree (of course she looks fab!).
"On stage at my Harvard Business School graduation! Lil blurry but SUCH an exciting moment 4 me & wanted 2 share w/u!," she wrote.
Earlier this month, Banks talked about her desire to gain a degree with Harvard Business School's associate dean, Youngme Moon.
"There's a difference between a career and a business," she explained. "I'm not looking to build a company based on fans."
Regardless, your fans couldn't be prouder, Tyra.