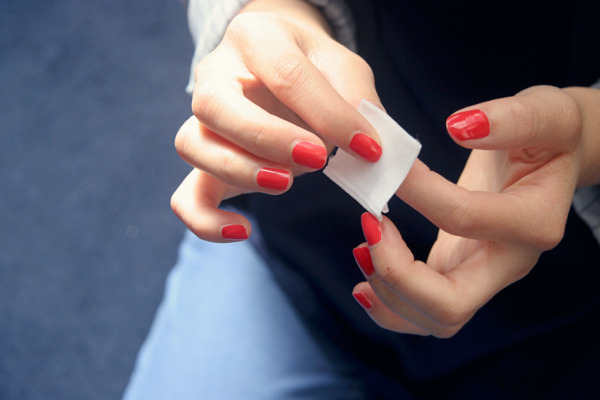 Glitter, decals, magnetic polish, crackle polish, caviar beads—the list of nail art options is endless. And while they're fun to apply, you don't really think about the painstaking process of removal until you're sitting in the bathroom scrubbing (and ruining) your nails. Just like a lacquer's texture and formulation, the chemical composition of your nail polish remover is important to consider. A product with too much acetone will get everything off, but you'll be left with dry, brittle nails and damaged cuticles. And while we all want to be green, some eco removers just don't work. Before we get started with which products to invest in, a small piece of advice: Quality matters. The cheapo bottle you picked up in the drugstore? Not gonna cut it. Cheaper formulations have harsher, stronger doses of chemicals that dry out your skin and weaken your nails. Instead, try our recommendations below.
The Best Eco Formula
Scented with lavender, these wipes quickly remove polish after only a couple of swipes. They're 100% biodegradable and non-toxic, plus, they come wrapped in individual packages to take on the go. What's not to love?
The Go-To Nail Polish Remover
Extremely gentle, the formula removes polish after a few seconds while moisturizing your nails. You won't want to try anything else after using this.
Must-Have Remover Wipes
Each package contains an aloe-infused miniature finger mit, which contains enough remover to free your digits of all varnish—sparkle or not.