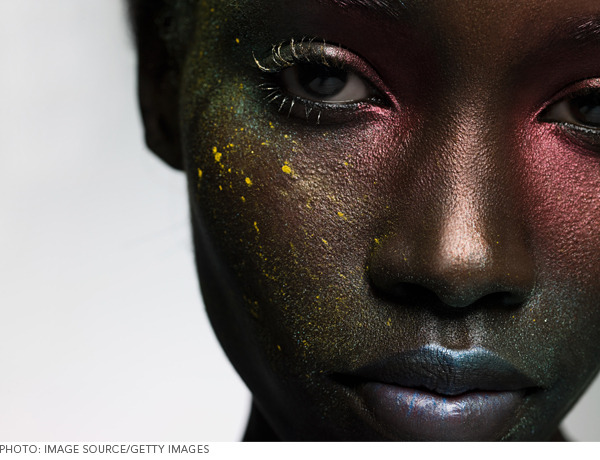 To glow, or not to glow? That's the question in the beauty world. No matter what anyone ever tells you the latest trend is, skin will always be in. But why is it that textures abound for eyes and lips, yet cheeks are limited to a handful of finishes? We'd like to give the skin little extra attention, but it's not just a simple highlighter we crave. We decided to scout the market for the products that will really make you shine. Tell your pout and peepers to take a back seat, we're letting the complexion take the wheel.
NARS THE MULTIPLE IN UNDRESS ME
The latest multipurpose wonder from Nars' fall collection comes in the form of a nude, cool-toned pink shot through with small shimmering particles. Dabbed along the high planes of the face, Undress Me radiates silvery light, paired simply with a clean black lash line and suede pink lips.
MAC MINERALIZE SKINFINISH IN EARTHSHINE
Stellar indeed, the entirety of MAC's Heavenly Creatures collection was made for skin effects. The nebulous, swirling packaging is enough to swoon—but let's get back to this planet. Earthshine's nuanced mix of burgundy, gold, and apricot imparts a truly unique surface when buffed on the cheeks. This color will come alive on deeper complexions.
ILLAMASQUA SKIN BASE IN AU
We didn't forget about body effects. Illamasqua's cult-favorite Skin Base, available in the limited edition, gold-spiked "Au" (the chemical symbol for gold—clever!), gives a warm, glittering highlight, and can be blended with moisturizer or primer for a custom finish. Blend the cream onto bare shoulder blades and over the décolletage on nights when skin takes the spotlight.