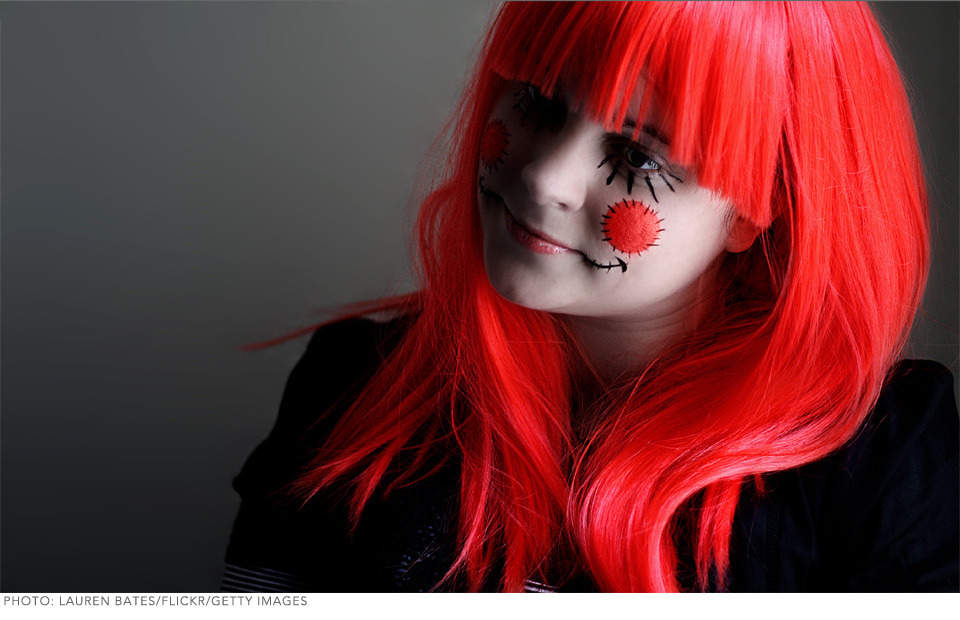 Halloween is just around the corner and whether you're creating the perfect sexy superhero or corroding corpse, this holiday lets us make the most of all the fun glitters and colorful paints. It's also the perfect opportunity to consider non-toxic options that avoid some of the harsh chemicals found in most conventional costume makeup products, including cadmium, mercury, lead, and arsenic. We found some easily accessible alternatives so you can create your glam and ghoulish masterpiece without the creepy ingredients.
WILD LASHES YOU CAN RECYCLE
Paperself Lashes, $9
As lashes keep getting bigger and bolder, so do their eco counterparts. We've been obsessed with Paperself's Chinese paper cutting-inspired lashes for quite awhile, and their amazingly intricate designs are no trick, just treat! Designs range from deer, butterfly wings, and peacocks to peach blossoms and sea horses, and they can last around four applications with proper care. Wear them with an avant-garde eye and toss in the recycling bin guilt-free.
EDIBLE FACE PAINT
Wee Can Too Edible Face Paint Kit, $30 (includes 4 colors and mixing kit)
Your skin will love you for flexing your creativity with face paint made from real organic fruit and vegetables, including beets, pumpkin, blueberries and spinach! Each kit makes 30 oz. of paint, and even if you're going for the wickedest witch ever, it's nice to know your green goop isn't truly grotesque. These flat-finish edible paints were originally developed for children but are equally as effective on anyone with an imagination and a paint brush!
STICK WITH THIS ONE
Winks by Georgie Faux Lash Adhesive, $8
Adhesive is a core staple for Halloween effects, but most of us don't need to use the heavy duty stuff formulated with formaldehyde, a volatile compound (VOC) worth avoiding and not something you need near your eyes or skin. It's very exciting to discover Winks, a very sticky lash and makeup adhesive that is formulated with naturally tapped latex and without formaldehyde, parabens, fragrance, or phthalates—which are known endocrine disruptors. The adhesive dries clear and doesn't irritate even the most sensitive of lids. Get "batty" with your lashes!
FINE TUNE WITH LIP TAR
Obsessive Compulsive Cosmetics Lip Tar, $16
One of the most difficult dilemmas about being eco on Halloween is the color limitation, but no more with OCC's breakthrough spectrum of vegan-and eco-friendly pigments. The brand never lets us down with their super luscious color range, and the minimal ingredients list certainly keeps things on the bright side—a hydrating base blend of castor seed, hemp, and peppermint oil. If you're using Halloween as an excuse to play with black lipstick, Tarred is a definite go-to color. But with a line this healthy and happy, it's hard not to have fun with them all come Hallow's Eve.