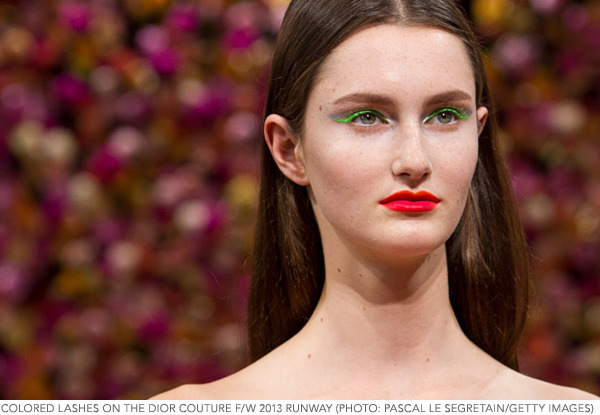 Come spring we were all abuzz about colored mascara after it made a splash on the runways at Stella McCartney. Pat McGrath did it again at the Dior Couture show with a neon lash and shadow combo that can only be described as "truly outrageous!" Though McGrath achieved the saturated lash colors with loose shadow, loads of makeup companies are now following suit creating quality candy colored mascaras that make rainbow lashes a snap, and with September's neutral palette, it's a more subtle way to bring color into your look.
Of course, colored lashes are not a new trend. We all remember our tubes of neon Hard Candy mascara, worn diligently in the mid '90s with our crop tops and magnetic piercings. And let's not forget Barbie's electric blue lashes and matching eye liner she sported frequently throughout the 1980's. History is prone to repeat itself—and trends are no exception—but we're happy to see this one in particular come back in a modern and versatile way.
Even if you aren't ready to brave a hot pink eye just yet, we are convinced there's a colored mascara look out there for you! Follow along this handy color chart and find your match.
BLUE
Blue on the eyes is always a safe bet when experimenting with a little color. The hue is versatile enough that most anyone can find a shade that will suit them. Inglot's line of Color Play Mascaras give us options with both a dark and a bright blue for either a subtle effect or a full on statement eye. If you have blonde hair, a subtle blue lash can be more flattering than a black one. Looks like Barbie was onto something!
PURPLE
Purple mascara has a habit of looking bolder on the brush than it does on your lashes, so don't let the sight of it turn you into a shrinking violet. Make no mistake, purple is strong, but it's also flattering on most skin tones. Redheads have the ability to rock an edgy purple eye like no one else can, but if you're not ready for full on Dior-inspired eyes, a flash of the color on your lashes enhanced with a thin stroke of purple eye liner will deepen brown eyes and bring out the green tones in hazel eyes. Swipe on Make Up Forever Smoky Lash in Purple for a sultry look, or turn up the volume with Mac Zoom Lash in Plum Reserve.
GREEN
Though Blondie gave green lashes a bad rap in their song "Rip Her To Shreds" we are convinced we can turn its reputation around. The color was popular at Dior, worn with complimentary outfits in shades of red and pink. Green lashes are not for the faint of heart, but the color brings out warm brown and violet tones in eyes beautifully. If only Elizabeth Taylor had gotten a hold of a tube! Nouba from Italy has created a variety of green shades in their Colorlash line from teal to lime.
RED/FUCHSIA
Probably the most unusual color in the mascara world but surely the most memorable eye look at Dior. Red is a color we like to avoid around our eye area, but it's a force to be reckoned with when done right. This is one hue that needs to be worn bold—or not worn at all. Pair several coats of red like Urban Decay Big Fatty Colored Mascara in Black Cherry with a matching eye shadow or liner, but don't blend your red. Instead keep shadow edges on the lid crisp for a modern look visible from a mile away. If your eyes are blue, hot colored lashes will make their icy tones pop, proving that the "red-eye" look can be flattering after all.