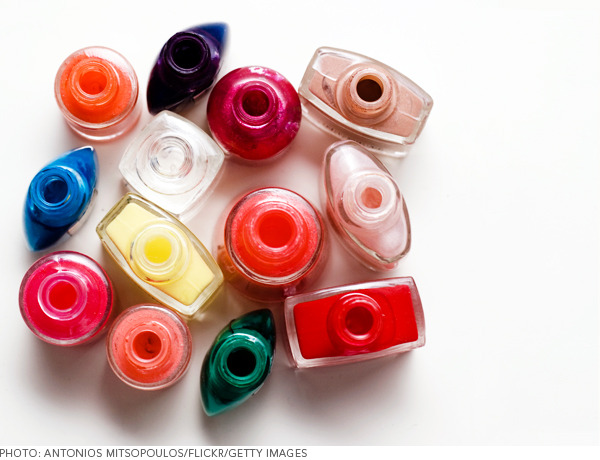 Unlike mascara's lightening-fast turnover rate, nail polish is one of those beauty products that takes a lot longer to use up, but tends to stay in cabinets and counters for decades (seriously—we've spotted bottles from the last century). Contrary to powders and blushes that come with a suggested makeup expiration date—check the little icon in the back of the compact—lacquers, top and base coats, and special nail treatments don't exactly have a mandated shelf life. So when do you toss them?
According to Schoon Scientific president Doug Schoon (who formerly served as CND's VP of Science and Technology), the FDA does not designate the shelf life of nail polish, so it's up to the manufacturer to determine the appropriate date. "Unopened and properly stored polish will last at least 18 months, possibly 24 months depending on storage conditions," says Doug. Real talk—two years is a
little
early to ditch that half-used splurge, so it's more important to look for signs of a spoiled bottle instead of relying on the date.
SPOTTING AN EXPIRED NAIL POLISH
Texture is a dead giveaway for varnish gone wrong. Older bottles typically feel thick, clumpy, and are troublesome to apply an even coat compared to newer, runnier textures. "Over time, some ingredients begin to clump together, making it difficult to remix them," clarifies Doug.
HOW TO PRESERVE YOUR NAIL POLISH
But like all beauty products, a long shelf life begins with a little TLC. "Your nail polish should last forever, as long as you store it properly," asserts Essie Cosmetics founder Essie Weingarten, whose famous lacquered lineup includes over 250 cult-loved shades we probably own over half of. As long as the polish is stored out of direct sunlight and in a cool, dark setting—"the light and heat can break down the drying time," she explains—and the bottle of the neck is kept clean with acetone, there's no reason why you can't keep the nail renaissance going and going.