You Can Help Give Clean, Safe Drinking Water
Do you believe that everyone deserves something as simple and crucial for life as clean, safe water?
Do you believe a child in Somalia should spend his/her day in school instead of fetching dirty, diseased water from a pit?
Do you believe you can make a difference?
We do.
Nearly 1 billion people don't have access to clean, safe drinking water.
Why Give Water?
Access to clean, safe water isn't an end, it's a means.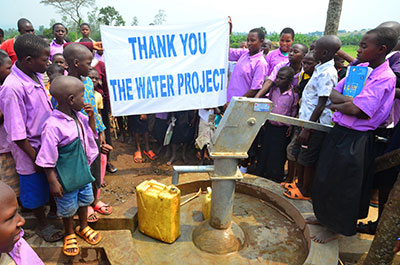 Clean water changes lives. Girls return to school. Women begin small businesses. Men are no longer too sick to work. Fields are watered and food supply becomes more reliable. Health returns and children grow up to be productive members of their community. The cycle of poverty is broken. Lives change.
More than 1 in 8 people in the world don't have access to safe drinking water.
1 out of every 5 deaths under the age of 5 worldwide is due to a water-related disease.
Nearly 80% of illness in developing countries is linked to poor water and sanitation conditions.
But, for only $20, you can fix that for one person!
Clean water doesn't just save lives, it changes them... forever.
The Problem:
For too many...dirty, diseased water leads to a cycle of sickness, lack of education, poverty and lost hope. It is needless suffering.
The Solution:
Decide this has to change. Get involved. Help us build clean, safe water projects in the developing world.