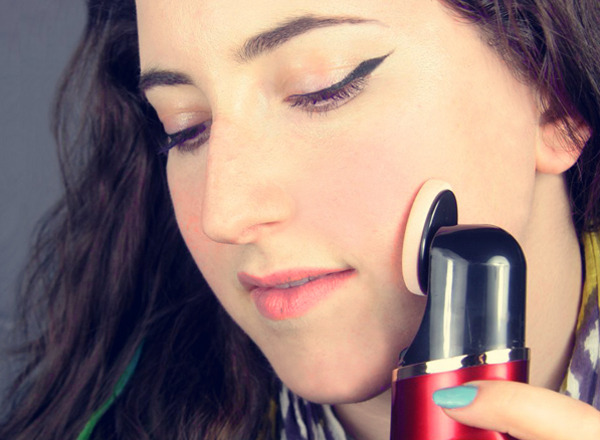 Mastering a flawless face, is above all, the highest hurdle to cross in makeup. We're sure you're familiar with the common applicators—airbrush, blending sponges, brushes—but there's a new motorized foundation gadget entering the face race.

A cross between a Clarisonic and the Beauty Blender, Romi's Digital Foundation buffs pigment evenly into your skin at high speed (5000 pats per minute), using a mechanized tapping contraption. Sounds so sci-fi, right?
The applicator comes with three foundation ampoules (you choose light, medium, or dark) and replaceable, ergonomic sponge pads. You load the foundation cartridge into the applicator like you would a battery, switch it on, and pump in the product to the sponge as you skim it over your face. The gentle vibration massages as you click the pigment dispenser, and it takes a few pumps for completely full coverage.
For some, this gadget may seem a little too gimmick-y, and the shade range leaves a lot to be desired (just three!?). However, don't discount this digital base yet—we were pleasantly surprised at the semi-matte finish and durability. Our skin really did look more even and natural, with no cakey residue in sight. Bottom line: If you're obsessed with your Clarisonic, love a good morning massage, and crave the latest in beauty tech, get patting.
Romi Digital Foundation, $89.99, available on HSN.com.