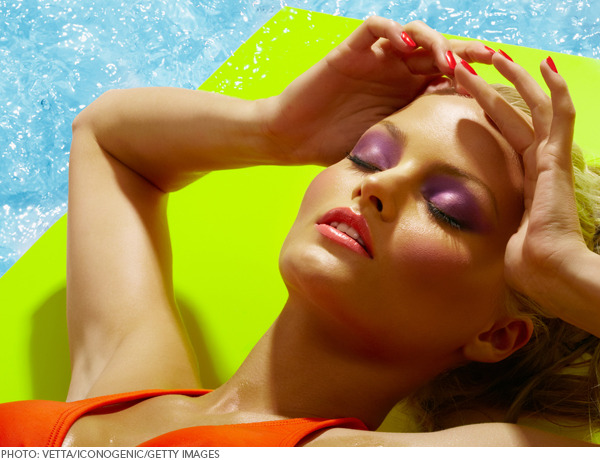 Hot, humid weather doesn't mix well with makeup. But is that going to stop us from wearing it? As if! You'd have to pry it from our sticky hands. Here's the thing: Choosing makeup for summer weather is a careful process of elimination,—weeding out thick creams, smudging liners, and fading blush—and ultimately you're searching for heavy-duty products that feel weightless on your skin. Maybe it's a catch-22 to you, but we've found three formulas that fit the beach-bound bill.
Think of this top coat as a clear mascara on steroids. Ideally, the translucent, gel formulation is designed to coat and seal any non-waterproof mascara from potential melting or smudging that comes with a beach day. If you're not into a full face, try a more natural look at the shore; brush the beach bag-sized mini through bare lashes and brows for a shiny, lacquered, and stay-put finish.
As an official sponsor of Mercedes Benz Fashion Week Swim and a favorite of synchronized swimmers worldwide, Make Up For Ever is adding a new piece of water wear to their collection: Aqua Shadow! The jumbo pencil gives gorgeous coverage in outlandish degrees of heat and humidity. We don't know how they do it, but this 12-range set is loaded with pearly pigment and lasts through anything.
A sweaty summer day is no time to futz around with brushes and tools—makeup application should be effortless, and Korres' new finger-approved cheek tints make it easy. A swipe and dab from this pot formula brightens complexions, leaving a hint of sheen and luster ready for a hot summer night. Three shades named in Greek prose—Eros Coral, Philia Rose, and Chara Crimson—are also ideal to layer on lips, and complement the stunning faux-archival packaging.