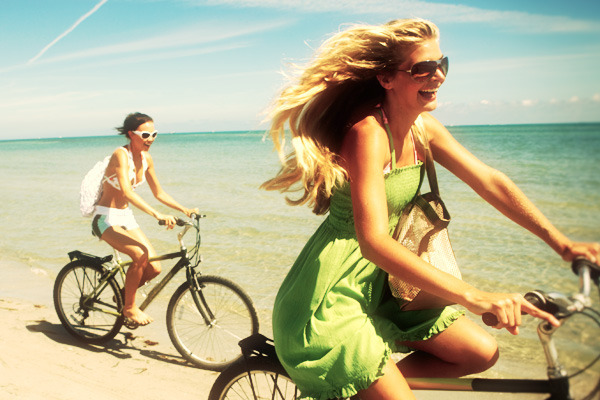 When you're dealing with high temps and humid climates, it's easy for your skin and hair to surrender to the elements. No sweat—we've uncovered two travel-friendly loose powders that shield your skin, pump up your locks, and get you ready for a season of heat.

After interviewing dozens of dermatologists, the most popular piece of advice is a no-brainer: Wear sunscreen, and reapply it! But honestly, who wants to restart their foundation routine three times after initial application? Even we're too lazy for that. So until technology devises a formula that keeps you covered all day, we're turning to the next best thing: SPF loose powder. "They're sheer and they don't mess with your makeup—a mineral physical blocker is the way to conquer the sunscreen problem," notes American Society For Dermatologic Surgery president Susan Weinkle, M.D. Encased in travel-friendly brush applicators, you can dust your face with solar-fighting loose powder throughout the day—with bonus shine control for summer oil slicks. It's brilliant for both work and the beach! The translucent finish of Peter Thomas Roth's SPF 45 powder has a permanent home in our bag year-round.

Hair gets a beatdown in summer. It's like an unfortunate beauty paradox—the heat dries out your strands and makes your scalp extra oily. No wonder dry shampoo is adored by all. The powder gets rid of oil and enables you to go between washes, so your locks feel less damaged. Dry shampoo typically comes in spray or aerosol format, but we were excited to test its new incarnation in Shu Uemura's translucent texturizing powder, designed to work on any hair color. Not only does the powdered brush-in-one absorb excess oil in your scalp, the formula magically gives limp, day-after roots a pretty visible volume boost. Aerosols be-gone, we've already packed our new hair touch-up to go.