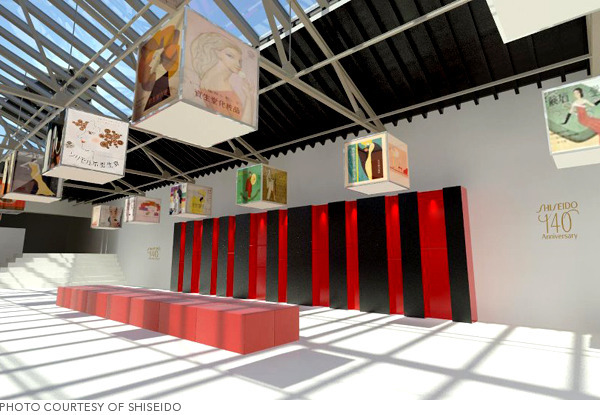 What a weekend to jet-set to France. If the resort runways weren't enough to make you drool, how about an exhibit dedicated to vintage makeup ads?
Le Palais de Tokyo
, the Parisian center for contemporary Japanese art, recently celebrated Shiseido's 140-year anniversary with a two-day pop-up show, displaying some of its finest advertisements. Entitled "Un Trait Plus Loin," the exhibition loosely translates to "a line or streak further," and presented the Japanese beauty brand's century-and-a-half graphic design evolution.
Suspended from lanterns, the vast collection of prints gave viewers a glimpse into Shiseido's visual history, pulling from over a century's-worth of graphic references. From sinuous, Aubrey Beardsley-esque strokes of Art Nouveau to classic Ginza florals, the Shiseido woman has always been modern, intercontinental, and feminine in print. And who could forget their signature crimson packaging? Serge Lutens' anniversary-edition bottle of Eudermine, the iconic softening lotion originally introduced in 1897, was also on display. Although it was fleeting, the exhibit provided fascinating artistic insights into a brand with an incredibly complex, prevailing history. Browse through some of the pieces below.