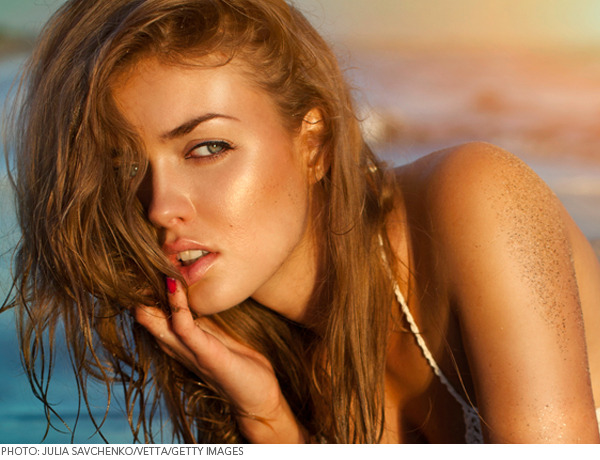 Some prefer the mattifying effect of powder bronzer when warm weather hits, but for those with dry skin year-round, it's time for cream bronzers to take the spotlight. Emollient in texture and rich in pigment, cream- or gel-based bronzers produce a beautiful, natural finish while adding a healthy dose of hydration—no grease, just glow.
If you're searching for a high-shine finish, look no further than Nyx's shimmering bronzers. With four shades ranging from dusky copper to a warm chocolate, each twist-up stick is spiked with a heavy dose of solar sheen, perfect for impromptu bronze eye makeup. A silicone-based finish imparts a soft texture onto the high plains of the face, and the portable size makes this mini stick vacation-approved.
Leave it to the Aussie's to marry a gorgeous bronze finish with high SPF. Sue Devitt's gel bronzer is a marine lover's dream, featuring collagen- and elastin-saving algae extract. The lightweight tan formula imparts a natural warmth to pale and medium skin tones, all with an added boost of sun protection. While it's not enough for full coverage, a little extra SPF never hurts.
This transparent bronzing stick gives a Mother Earth-approved, sunkissed glow. We're smitten with the eco-fab formulation, which boasts a concoction of shea butter, sunflower oil, green tea, pomegranate extract, and a handful of other antioxidant-rich, nourishing ingredients. Available in a pale gold, a rich bronze, and a clear brown, the swivel stick gives any complexion a subtle, organic radiance. Love!