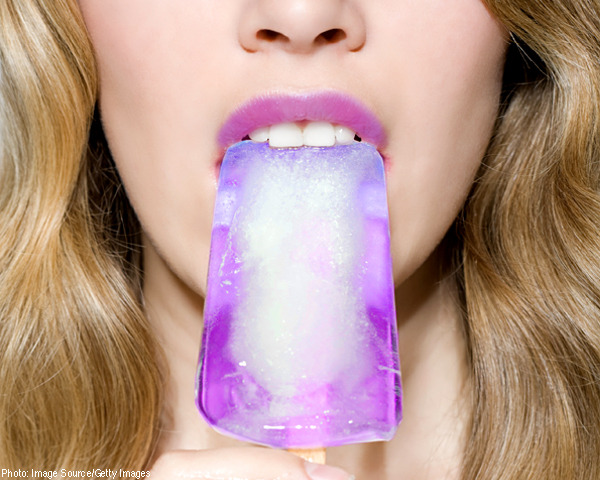 Firecrackers. Big Sticks. Push Pops. Do we have your attention? Come summertime, the holiest sound on the street comes from the ice cream truck. The entire neighborhood clamors to the man dressed in white, eager to dish out his frozen, artificially dyed treats. Ah, sugar-bound memories. Colorants aside, have you ever really noticed a little kid eating a Popsicle? Besides the sticky mess and huge, brazen smile, we observe the effect of the actual pop. Subtle ombré tints, practically fluorescent stains, and a perfectly supple, wet texture emerge from a simple summer tradition: noshing on flavored ice. For us adults, it's difficult to sneak in an Otter Pop midday, but these grownup-friendly beauty alternatives will let you relive one of your most delicious childhood memories.
Nothing's worse than dry, darkened lips on a hot summer day. To preserve a temporary stain—from food or otherwise—look to Smashbox's ingenious stain and seal system. Pairing a felt marker-tipped tint with a complementary emollient balm, use this double-ended wonder to lock in any lip dyes. Dab the marker in the center of the lips and blend out with your finger, then slather the balm liberally on top.
These hybrid pigment-gels are utterly genius! Housed in a elliptical silver lipstick case, the pigmented center of the bullet is encased by a thick layer of solid, hydrating gel (envision the Earth's mantle surrounding its center). Upon application, the center of the tube deposits the most pigment onto your inner lips, and the translucent gel diffuses the color outward, creating a naturally ombré neon violet tint.
We've never quite been able to reproduce the dewy-lipped finish of a Popsicle until we met this runway staple of glosses. Make Up For Ever's cult-favorite tube has been a model favorite for years, but we just got our hands on the tangerine hue that's taking the beauty world by storm. Apply a slick layer of this stay-put lacquer for supple, wet, and long-lasting shine.