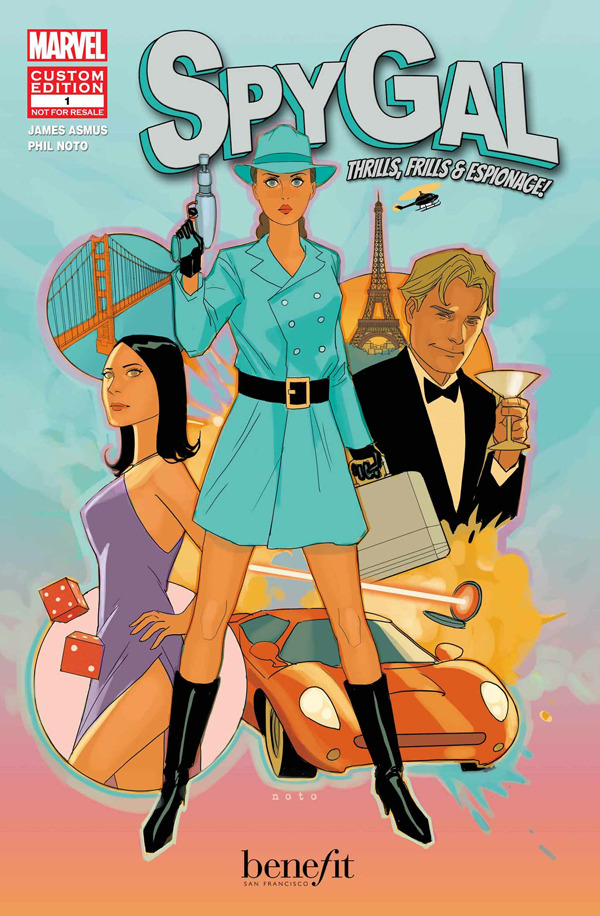 Beauty geeks rejoice! If you thought the makeup world couldn't get any cooler, leave it to the creatives at Benefit to bring us our latest lunchtime read: a comic book just for us beauty mavens. With comic-strip cinema all the rage and Comic-con just a few months away, the brand teamed up with Marvel to bring the beauty masses a new kind of sexy super heroine.
SpyGal: Thrills, Frills, and Espionage
, is inspired by Benefit's best-selling retro primer, the POREfessional. The jam-packed comic was written by James Asmus (whose credits include
Uncanny X-Men
and
Captain America
), and illustrated by acclaimed artist Phil Noto (the guy behind
Avengers: The Origin
and
X-Men: Origins
!). The story chronicles the globe-trotting, skin-saving persona SpyGal as she fights crime, empowers women, and (gasp!) eliminates bad skin with her secret weapon: A pore-zapping ray gun. Watch out for more kick-ass beauty gadgets that perform double-duty—like the power puff smoke bomb and lipstick poison! We had more than a few chuckle-worthy moments leafing through Benefit's debut comic. Could beauty cartoons the new collectors' item? We're keeping our copy, just in case.
Pick up your free, gift-with-purchase copy of "SpyGal: Thrills, Frills, & Espionage," available June at Benefit counters worldwide.