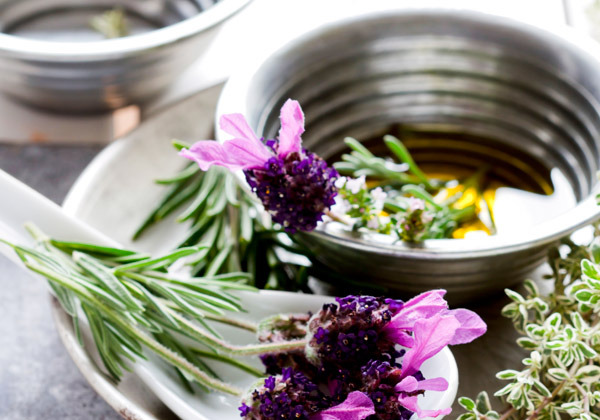 DIY beauty ingredients are everywhere, including your backyard! From the greenhouse to the pantry, natural herbs, essential oils and tea can do wonders for your complexion! So turn on some music, light some candles, and check out these garden-grown DIY beauty ideas to remedy your mind, soul, and skin.
Chamomile
Chamomile tea isn't just comforting to sip on, it works to soothe inflamed skin, too! Rather than drinking your tea, soak a cotton face towel in the liquid, then press it gently to your face before applying (or even after) a mask. The herb will work to calm inflamed skin and leave your complexion looking radiant!
Rosemary
This sweet-smelling herb won't just season your cooking, it's an acne-fighting power player! Rosemary helps to tighten skin, contains anti-fungal and antibacterial properties to help prevent breakouts, and is full of antioxidants to plump and brighten your skin.
Green Tea
This beverage is the perfect substitute for coffee, and helps to de-puff your skin. Place a green teabag (after using it!) under eyes to prevent and decrease puffiness and dark circles.
Mint
You may prefer your mint in a tea or refreshing summer cocktail, but have you ever thought of applying it to your face? Mint has been used to treat skin conditions for hundreds of years, and its antibacterial properties are perfect for eliminating blocked pores and pimples. Simply crush a handful of mint leaves in a mortar and pestle (or blender) until they become a paste, and massage them into any areas of concern.
Lavender
Lavender is not only incredibly calming, (sprinkle a few drops of oil onto your pillow to help you drift to sleep!) it's also one of the most popular herbs in beauty products. For the perfect DIY face steam, fill a bowl with boiling water and add two to three drops of essential lavender oil. Place a towel over your head and the bowl, and let the steam open and purify clogged pores.