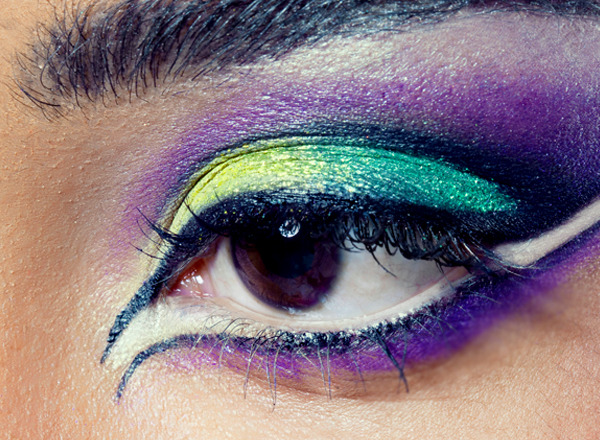 White pigment is more versatile than you think, and works on a wide array of skin tones! The pallid color is mostly known in color theory as the light counterpart to shadow. Pure white and black pigments are used together on stage to create structure when bright theater lights flatten any dimension on your face. But besides its iconic role as highlighter and eye lashes, white makeup serves a multitude of uses for any Beauty experimenting with their look.
LIGHT BRIGHT
Many brands have developed white foundation formulas to custom mix. Good news if you've ever purchased a base that's a touch too dark. Blend the formula on your hand—start with your original foundation and slowly drop in white until you reach the desired true-to-your-hue finish. But if you're dying for Kristen Stewart's
Twilight
pallor, slather the milky formula generously on its own.
DOLLED UP
Rim the waterline of your eyes with a creamy white pencil and your peepers will look so bright they'll seem artificial. Most Beauties choose nude liner instead of white to achieve a similar effect, but we dig the stark contrast. Smudge the white crayon on both inner and outer corners for a sharper, wide-eyed effect à la Marilyn Monroe.
BASE BLEACH
We love colorless eye primers as much as our community does (Urban Decay's Primer Potion has over 600 reviews!), but sometimes you need a truly blank canvas to work with vibrant color on your lids. Use a creamy white base to ensure the richest color payoff.
SKETCH-IT
Just as tailors use chalk for hemlines, makeup artists use white pigment to outline their designs. Before any experimental makeup look, it's a great idea to delineate any major borders and lines with soft white liner before going in with messy, heavy pigment. The invisible silhouette provides easy-to-follow guidelines that are easily covered up.