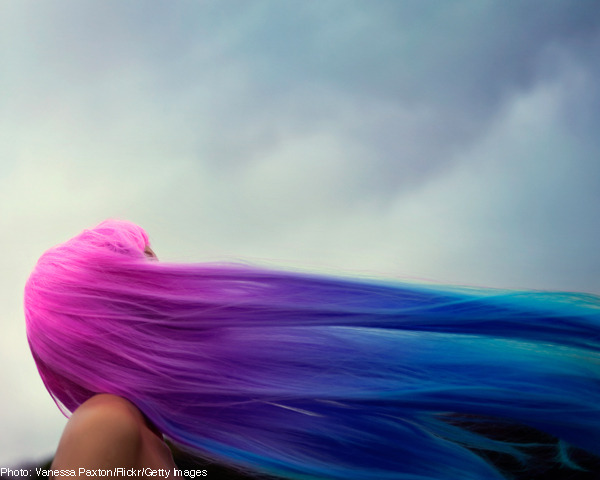 The rainbow hair epidemic has reached everyone from festival fiends to celebrity trend-watchers (have you checked out Lauren Conrad's raspberry dip-dyed pony yet?). Clearly we're into the chroma-mania ourselves—half of our editorial team currently sports locks in tones of lavender, teal, and fuchsia. But unlike a swipe of acetone or a rub of cleansing oil, dyeing and processing can seriously damage your tresses. Cue, reinforcements: Color-preserving hair care.
It's a well documented fact that colored hair requires a little more TLC. But like certain skin care products, is a special formula worth the investment? The answer is yes! A splash of bleach or ammonia isn't trivial—you've chemically altered your hair shaft. "Any kind of coloring changes your hair cuticle, stripping it of moisture," explains Bumble and Bumble Creative Technical Lead Zoe Wiepert. Regular shampoos are theoretically designed to clarify residue in your scalp—great as a weekly build-up treatment—but bleached and dyed hair fades exponentially faster with daily use! "It's like using dish soap—you remove too much and strip away the dye along with the moisture," she adds.
When you continue to wash away a little bit of dye at a time, any stripped hair—exposed from bleach and ammonia—is vulnerable to damaging UV rays and mineral deposits. Color-preserving hair products are specifically formulated to add hydration, durability, shine, and brilliance—essentially, they lock in the dye for as long as possible. So whether you've colored all over, lightened up a few key pieces, or opted for a couple of hidden streaks of neon, consider your chemically designed hairstyle and protect your tress transformation with the right products.
Bumble and bumble Color Minded Collection
This sulfate-free collection features a shampoo, conditioner, styling balm, and finishing polish, in addition to a fifth, pro-only, salon treatment. While the UVA- and UVB-protective line guarantees 40 washes without fading permanent hair color (our locks looked brighter and less frizzy), Color-Minded also helps preserve semi-permanent, rainbow-bright tints, too! "I tested the line on every kind of hair color out there—Manic Panic, food coloring, you name it, it works!" laughs Zoe. "The Styling Balm is my absolute favorite—you can use it wet or dry for hold, separation, and a piece-y texture."