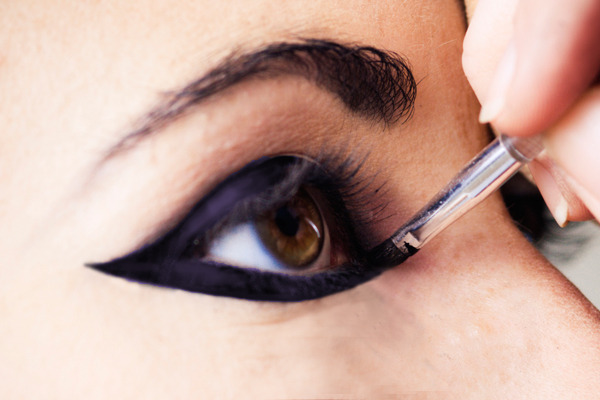 It's no secret that eye liner is one of the best things invented, ever. Originally worn by the Egyptians way back when, the black stuff has gone through countless iterations (and myriad colors!), and is now available in almost every medium imaginable. It's easy to see why beginners and buffs alike still have problems choosing their ideal liner, and every formula has its own merits and downfalls to consider. If you're stumped and don't know how to embrace the world of eye definers, scan our guide to the basics first.
CAKE
One of the first commercially viable formulas available, cake eye liners are solid, water-activated pigment blocks housed in shallow tins. The thin, watery texture applies like face paint, producing soft, yet crisp lines for a vintage feel.
PENCIL
The most portable, travel-friendly option, pencil eye liner produces soft definition appropriate for the office. The formula makes lining your waterline an easy feat, too! The con? For precise application, you must always sharpen the tip.
CREAM/GEL
Considered a modern staple, cream and gel liners are emollient jars of pigment made for today's heavy-duty wear. Designed with durability in mind, these wonder pots are available in every shade of the spectrum, and produce a wide array of line weights depending on your brush and technique.
GLITTER
If you're looking for the shock and punch of sparkle without a potential mess, try a shimmering eye liner. Available in pencil, liquid, and gel form, twinkling particles immersed in ample pigment deliver a high dose of glister—without the glitter bomb!
LIQUID
From fairy wings to curlicues, liquid eye liner is truly the makeup artist's paint brush. Designed for a confident, steady hand, liquid liner imparts a sharp, rich color payoff in one flick. Lasting power is decent too, depending on the formula you choose. Go vintage glam or wild and crazy with this selection!
POWDER/KOHL
The softest of the bunch, powder eye liner is used to achieve a subtle, smoky effect when smudged into the lash line. A great choice for makeup novices, application is virtually goof-proof (any dark eye shadow will do!). For a more sultry finish, try kohl powders! Loose pigment pairs with a special thin plastic applicator, creating an intense shape along the lash line and waterline. Beware; powder formulas tend to slide off of oily lids, so always prime before you line!