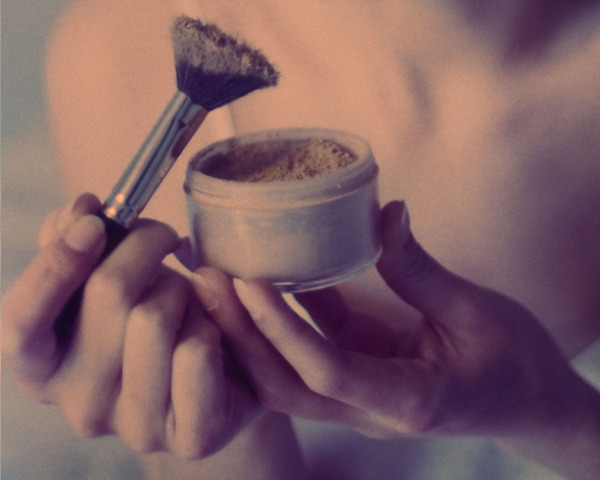 Dewy can turn greasy in a flash, which is why Beauties have relied on finishing (or setting) powder for a velvety sheen that lasts all day. But a sheer dusting of powder doesn't necessarily mean a flat complexion. When layered with cream formulas, these translucent particles banish oil and give your skin a soft-focus finish. Not to be confused with coverage-heavy powder foundation, finishing powder is meant to set liquid- or cream-based makeup with no additional coverage. "The great thing about translucent loose powder is that you can always buff it to perfection on any complexion," says bicoastal editorial and celebrity makeup artist Robin Black (clients include Isabel Lucas, Chloë Sevigny, and Olivia Wilde).
PRESSED OR LOOSE?
When it comes to powder, all particles are not created equal. While travel-ready pressed powder is virtually mess-free, most working artists prefer the effects of loose powder. "Pressed powder is a great option for quick fixes, but I find loose powder often has a finer texture," explains Robin. She's also staunch on translucent—not tinted—formulas. "I always choose a translucent formula for red carpet, photo shoots, and video." When exposed to the flash strobes on camera, any mica or shimmer in setting powder can create white spots which make the face look extremely shiny or ghostly. "Pastel color-correcting loose powders also tend to oxidize and darken faster as they mix with foundation and air," she says.
APPLICATION TECHNIQUES
When you're ready to set your makeup for the day (or evening out!), whip out your product and brush of choice. "Choose a large, flat fluffy brush or a fully rounded shape when applying finishing powder," suggests Robin. Dip your brush into the loose powder, then gently tap off the excess. Start buffing the powder into the center of your face, working your way out to the edges. "After applying that first coat of powder, use a clean brush to buff away extra product sitting on the surface of your skin," advises Robin. "If you don't blend really well, the texture of powder can appear in camera flashes—a big faux pas on the red carpet!" When you finish, bring pressed powder or blotting papers for quick shine control, depending on how dry your skin is feeling that day.