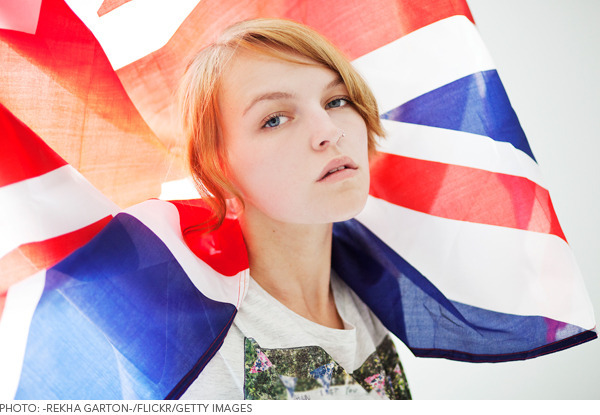 With the Queen's Diamond Jubilee behind us and summer's Olympic games ahead, the focus is on London. Globetrotters and natives alike will be celebrating monarchy and medals, but how could we forget England's marvelous beauty legacy? We've always coveted the UK look—whether it's Jane Austen's English rose of the North or Burberry London's chic minimalist femmé. Fans on site will carouse the city's royal past with a modern Olympian metropolis—and the Brits' beauty scene is no different. To celebrate all things quintessentially London, here's the best of Britain's beauty legacy, old and new.
As one of England's oldest fragrance lines, Penhaligon's has a 140+ year history of fine perfumery. Started by William Penhaligon, one of the Victorian era's most decadent and creative thinkers, in 1870, the line today still carries his flamboyant ideals in their lineup of 34 original scents, all hand-mixed and specially packaged in the most adorable glass flacons and bows. Their eponymous Jubilee Bouquet EDT was first created in 1977 to honor the Queen's Silver Jubilee, but the chypre floral bouquet of bergamot, green lily, and woods still remains relevant for her Diamond anniversary.
We're suckers for vintage packaging, and these 100% UK lip balms don't disappoint. Metallic tins decked out in colorful wraps remind us of early 20th century British illustrations, and the organic, plant oil-based salve gives lips a lightly scented, translucent sheen. All formulations smell incredible, but we recommend Sweet Geranium for an especially English hint of flora.
Space NK's latest Beautannia collection takes inspiration from the coastal town of Brighton. Fresh notes of grapefruit, sea moss, and mint from this candle bring our senses to the seafaring city. The nautical packaging instantly transports us to the sandy shores.
What's a British beauty roundup without mention of England's original Top Model, Kate Moss. As longtime spokeswoman for Rimmel London (who coined "The London Look"), Kate's finally putting her kiss of approval on a lipstick of her own. The five-shade line comes in an array of vibrant and nude shades, but we'll stick with Kate's favorite—a power-packed red.
Be honest, there's a slim chance you'll snag a medal of your own at this year's Games, but at least you can wear the metallic tones of triumph on your fingertips. The nail world is going bonkers for butter London's Olympic Heavy Medal Trio, and for good reason. The burnished textures of pure gold, silver, and bronze make the ultimate base for a molten manicure. But, if you're still in the afterglow of her Royal Highness' Diamond Jubilee, snag Lillibet's Jubilee, a silvery metallic lavender, instead.
What if you could smell Big Ben without leaving your home? That's what perfumers Gérald Ghislain and Magali Sénéquier have accomplished with their latest line, the Scent of Departure. Inspired by 20 capitals, this new concept in fragrance aims to introduce you to the sights—and smells—of a new city through distinct aromas. Their scent profile for London (dubbed the airport code "LHR"), is definitively British. Notes of pine, bergamot, tangerine, patchouli, and white musk transport you to Hyde Park, as you envision a botanical stroll along the Serpentine Lake with a steaming cup of Earl Grey tea. The intriguing packaging is made to resemble a luggage tag—truly the ticket to an olfactory vacation.