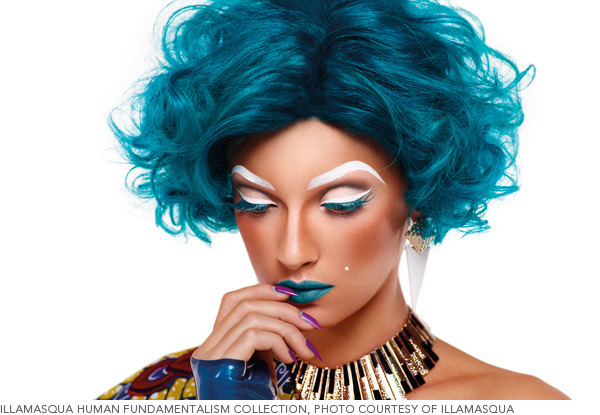 When it comes to white eye liner, we've already got you covered on the basics. A pencil or gel formula is ideal stroked along the waterline—it's one of the oldest tricks in the book to make eyes appear wider and brighter. But with a new wave of liners available in free-flowing formulations and bleached-out tints—there's a whole new world to explore. Surprisingly enough, most of these almost-futuristic looking eye techniques are inspired by beauty trends of the past.
THE MILKY MARILYN
Nothing says bombshell more than Marilyn Monroe's signature flicked-out wing, but instead of her staple black-brown shade, why not line light this summer? A sharp, opaque wing in white is bound to draw attention á la Illamasqua's Human Fundamentalism collection.
COLOR (LESS) CREASE
Along those retro lines, embrace the popular cut crease in white! Carefully trace the outline of your eye fold using a thin, felt-tip pen, and illustrate little embellishments on the side, so only a handful will notice your detail-oriented design. Be sure to choose a water-resistant formula to avoid, well, creasing.
MOD-ERNIZED
Twiggy's exaggerated lashes are easier to recreate than ever, but modernize the look with an alabaster formula containing some sheen. Paint black and white streaks on the lower lash line, or rim your existing black liner for a little extra contrast.