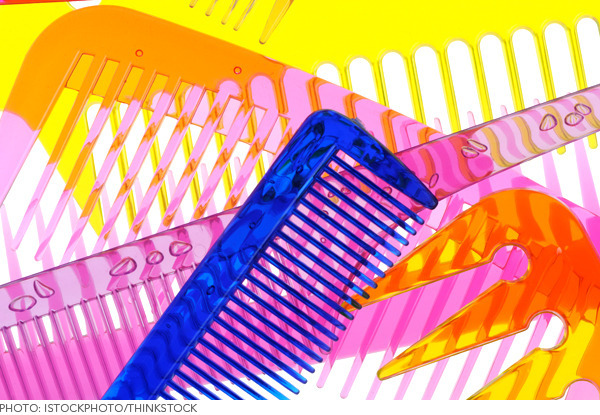 Legend says that you should brush your locks 100 times a day, but we don't remember any mention of which brush to use. With so many different styles on the market, it can be tough to know which brush does what, not to mention bristles! New York City-based hair stylist Matthew Monzon was kind enough to decode the mystery of the hair brush, and tell us what we should really be using to tame our locks.
Round Brush
Use a round brush when blow-drying to create curl and volume, or to give some bend to the hair. For extra oomph, opt for a round brush with a ceramic barrel—it will hold heat for longer and extend the life of your curl.
Denman
So popular that the brush is known by the company's name, the denman gives a slight bend to the ends of your hair while blow-drying, and creates lots of shine. The slightly curved shape makes it perfect for bobs.
Paddle
This is your basic everyday brush. A paddle brush can come in a oval or rectangular shape, and is ideal for detangling hair. Depending on the bristles, it can also give locks a lot of shine.
Wide tooth comb
Use a wide tooth comb to detangle and comb product through damp hair before blow-drying.
Fine tooth combs
Use this tool when creating a more sculpted or wet look type of style.
Synthetic vs. Natural Brushes
While most hairstylists use a mix of natural and synthetic brushes, the bristle you choose should reflect your hair type. "Synthetic bristle brushes are better suited for people with thicker, more textured hair," says Matthew. "The synthetic fibers won't create as much static when blow-drying, and can be easier to detangle." And for those with finer locks? "Fine-to normal- hair textures should use a natural bristle. The softer bristles are kinder to thin locks, and the stimulation will cause your scalp to release natural oils, which encourage hair growth and keep fine locks healthy.