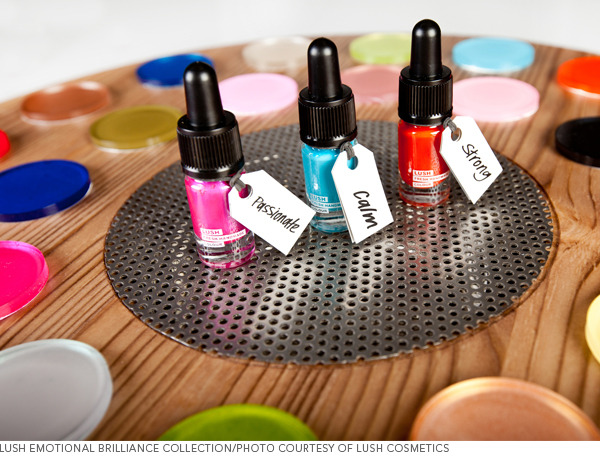 Color has long been studied for its positive effects on the psyche. It's kind of a no-brainer for makeup—most of us feel the instant perk-up of a sweet pink lip or an emerald eye. This weekend, UK vegan bath line Lush launches Emotional Brilliance, their biggest cosmetics debut to date. The 30-piece range of lip colors, liners, and shadows addresses the fundamental and symbiotic relationship between the color we wear and our psychological states. "Originally it was only going to be a range of products for our Spa following in the footsteps of our signature treatment, Synaesthesia, where we connect with the five senses," reveals Lush co-founder and Emotional Brilliance inventor Rowena Bird. "Lady Helen Kennedy, who helped create the emotional aspect of Synaesthesia, said she thought this idea could work linking color to emotion, and she was right." Strategic behavioral therapist Lady Kennedy worked with Lush on the entire line, providing the list of words associated with each color, a technique she uses in her therapy sessions. The outcome was a color cosmetics line designed to address both inner and outer beauty.
Combining the amusement of old Victorian parlor games with standard color therapy, you spin the Emotional Brilliance color wheel and choose three colors you're drawn to first. Pick up the bottle, read the word the color is associated with on the hang tag, and you'll be surprised to discover a little bit more about your current state of mind. Descriptors such as 'In Control', 'Confidence', 'Intuitive', 'Passionate,' and 'Motivation' give telltale signs of what color can reveal. The first color you choose symbolizes your strength or weakness, the second represents a subconscious need, and the third is your talent—what you require to achieve your subconscious need. Apply the colors on the eyes, lips, and cheeks to give your day an extra boost.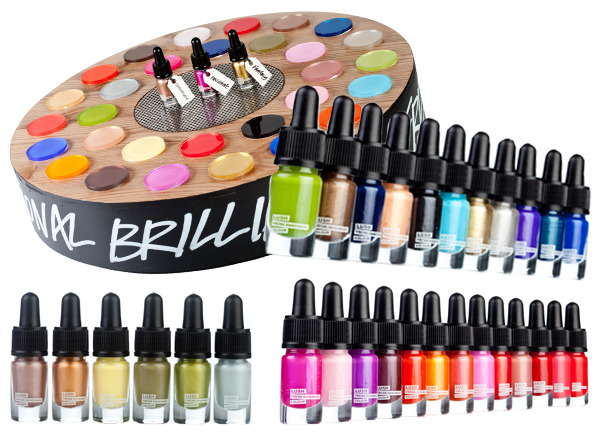 "I suppose it comes down to confidence in your own skin," says Rowena about the line. "If you are happy with your outside appearance, then your inside—psyche—behaves itself and lets you have a nice day."
The collection 13 skin-softening liquid lipsticks and six cream eye shadows with doe-foot applicators, and 11 no-smudge liquid eye liners with long brush applicators. Packaged in no-frills recyclable glass vials, all formulas can be worn together or separately, and your preferences and mood may change daily.