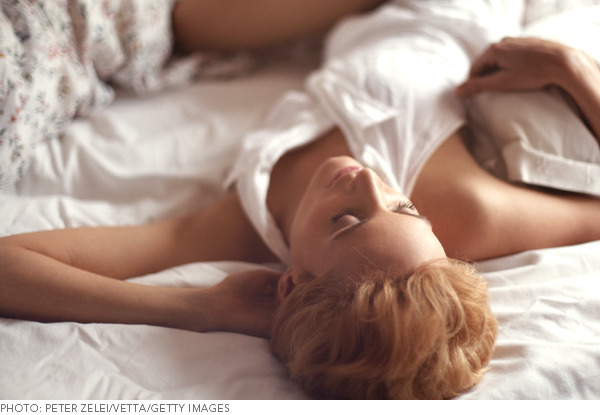 11 p.m.—locks look luxe. Eight hours later, you're staring in the mirror and wondering what's happening to that fierce blowout you styled the day before. That magic mix of heat, movement, and static doesn't bode well for hair, and while some have trained themselves to sleep like mummies, the reality is that snoozing is just as much a physical activity as any other. How do you stop the mane madness in the morning? Celebrity hairstylist Creighton Bowman will help us with a few time-tested tips.
Textile Twist
Marilyn Monroe and Bette Davis were famous for using satin pillowcases for their skin and hair. "It's the oldest trick in the book," says Creighton. "The only thing I can figure is perhaps the cool fabric keeps your scalp from getting hot." Both satin and tightly woven silk (a natural fiber) pillowcases work to keep your hair from creasing and gaining static.
Bunhead
Style while you sleep! Loose braids and buns are the smartest way to save grooming time in the morning, and they keep strands from developing unwanted kinks and frizz. "A loose bun helps keep a beach wave, even in stick-straight hair," adds Creighton. For perfect waves, avoid tying ends too tightly with an elastic, otherwise you'll see a noticeable crease in the morning.
Hit it With Heat
If you tend to lie on your side, your hair can end up unevenly volumized. "It only takes a second to blast your roots with the blow-dryer to even things up," says Creighton. Hair also tends to become oilier while you sleep—Creighton advises a blast of dry shampoo before heat styling.
Bang up!
Come dawn, dealing with your fringe is perhaps the most cumbersome hair dilemma. "The problem with bangs is that they're very high maintenance, and they have to be restyled every single day," says Creighton. Our solution: Get thee to a beauty supply store and invest in duck clips. These inexpensive contraptions, which come in cute leaf and bow shapes, allow you to press your bangs to the side without the sleepy cow licks.